Koh Chang now has it's very own disc golf course. This is located at Siam Royal View housing development, in the north west of the island. The Siam Bay disc golf course is built on the existing 9 hotel pitch and putt golf course but with a few additional holes added in what was once shrubland adjacent to the course.
This is a very challenging course as there are a lot of water hazards and relatively small green areas to aim for. Shank a throw and you'll end up having to fish your frisbee out of the lake. It was designed by Dick Lampinen, a Finnish former professional disc golfer and now course designer for Prodigy Disc Golf.
The first tournament to be held is the PDGA sanctioned 'Elephant Island Open' on 18 October 2018. This two round event has attracted entrants from several countries including USA, Thailand, Vietnam, Australia and Estonia.
Disc golf is similar to traditional golf. But instead of hitting a ball into a hole, you throw a frisbee into an elevated metal basket. As with golf, courses are 9 or 18 holes. Although the distances are shorter, usually around 50 – 100 metres per hole
Assuming you already know how to throw a frisbee, you can learn the rules of disc golf very quickly.
The idea is to get the disc into the basket (target area) in the least number of throws. You continue throwing from where your disc lands. After each throw the player farthest away from the basket throws first. The player with the lowest score at the end of the round is the winner. And , as with golf, each hole has a par score. On Koh Chang, all holes are Par 3. So you're aiming to get round in 54 throws or less.
DIsc golfers tee off from a designated astroturf tee pad, 2 x 4 metres in size. And you'll be throwing your frisbee into a Prodigy T1 Basket. Professionals use these baskets and they are approved by the Professional Disc Golf Association for championship play.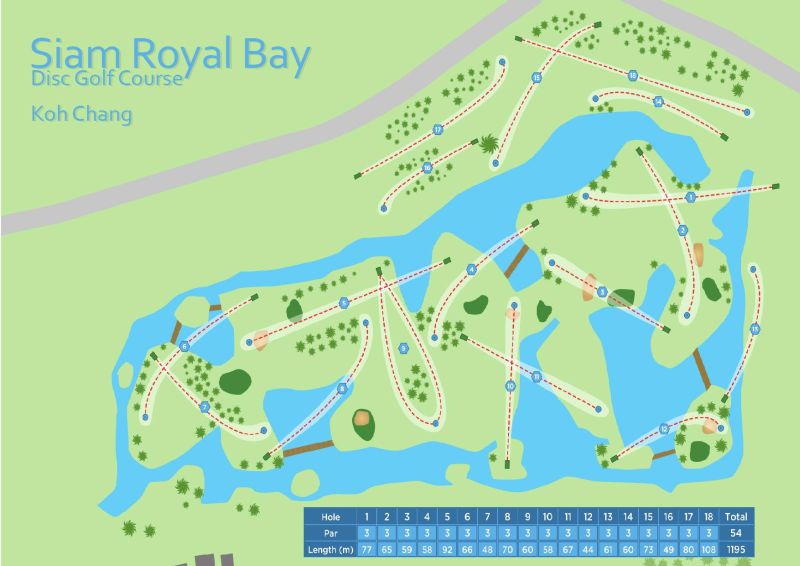 The total course length is 1195 metres and it is Par 54
The course is located in Siam Royal View. You'll find the disc golf and normal golf shop at the Sales Office. Located at the the security checkpoint at main entrance to Siam Royal View. There you can pay the green fee and rent discs.
Green Fee: 250 Baht
Disc Rental (4 Discs) : 100 Baht
Photos:
And if you're heading to Koh Mak, you can also play a round of their 9 hole course at Koh Mak Disc Golf, located in the centre of the island. Midway between Thaidaho Vista and Makathanee Resort.