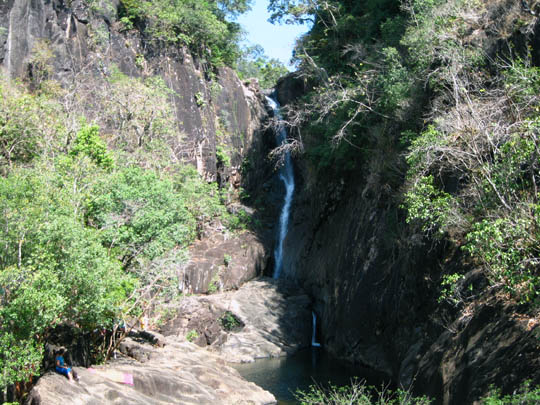 Klong Plu waterfall on the west coast of Koh Chang is a popular spot to spend a morning or afternoon. It is signposted from the main road and easily accessible. From the entrance, where foreign adults pay 200 baht and children 100 baht, it is a 600 metre walk along a shady riverside path to the waterfall which does look pretty spectacular. Ideally avoid the weekends as waterfalls are a magnet for Thai visitors who tend to make a beeline for them and, as this is by far the largest waterfall on the west coast, it can get busy.
At the start of the walk you'll also see a small visitor centre which houses a collection of posters and information boards highlighting the best of Koh Chang. For example, this is the signboard for Kai Bae beach. Note the beautiful stretch of white sand with rolling hills in the distance.
Pedantic nit-pickers may point out that there aren't actually any mountain ranges visible offshore from Kai Bae beach. But it is still a nice photo. And so what if the beach in the photo is really located on the isle of Berneray in Scotland!! In the information age it is far easier to download a nice photo off the internet than send someone with a camera down the road 5km to take a pic of the actual beach.
The riverside walk isn't too strenuous, although if you have dodgy knees you'll need to take care as it is uneven and there are a few sets of rough steps and there are a couple of rest areas on the way.
When you reach the waterfall you'll find plenty of rocky areas ideal for sunbathing and a good size plunge pool where you can cool off before heading back. At the entrance you'll also notice a minimart and a couple of small restaurants where you can sit by the river and have lunch before heading back to your hotel. The BBQ chicken is very nice.
(Money saving tip: If you are driving – either by motorbike or car – you can park for free at the National Park office, just past the ticket office. Most people don't do this as the friendly locals direct them to their private car park where you have to pay a whopping 10 baht per bike or 20 baht/car to park.)